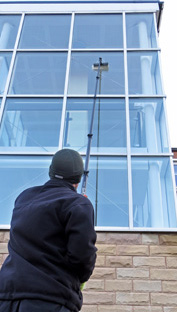 We are professional window cleaners with decades of experience, and we're proud to offer the best possible service available in the UK.
Our aim
…is to give you the best possible service, for a fair price.
We understand that our customers are busy people with busy lives, and just want to hire someone to do a great job cleaning their windows and gutters that gets on with it quickly and professionally.
We started out in Leeds but have since branched out to all of Yorkshire, so please don't hesitate to contact us if you're interested in hiring us, whatever your location might be.
What we do
Provide a network support throughout the UK and 1st class initial/ongoing training to operatives. Our operators give a professional reliable service so customers don't have to worry if the task will be done on time, or even at all. Using UK engineering to manufacture our pure water system, we supply the best job at the best price.